About the

shamrocks

The Cape Fear Shamrocks began in the fall of 2011.  What initiated as one team playing in a tournament has turned into over 180 lacrosse players each year traveling up and down the east coast to play in highly competitive events.  There are many people that worked extremely hard to make it happen.  Parents, coaches, players, team managers, alumni and sponsors are all responsible for the Shamrocks success.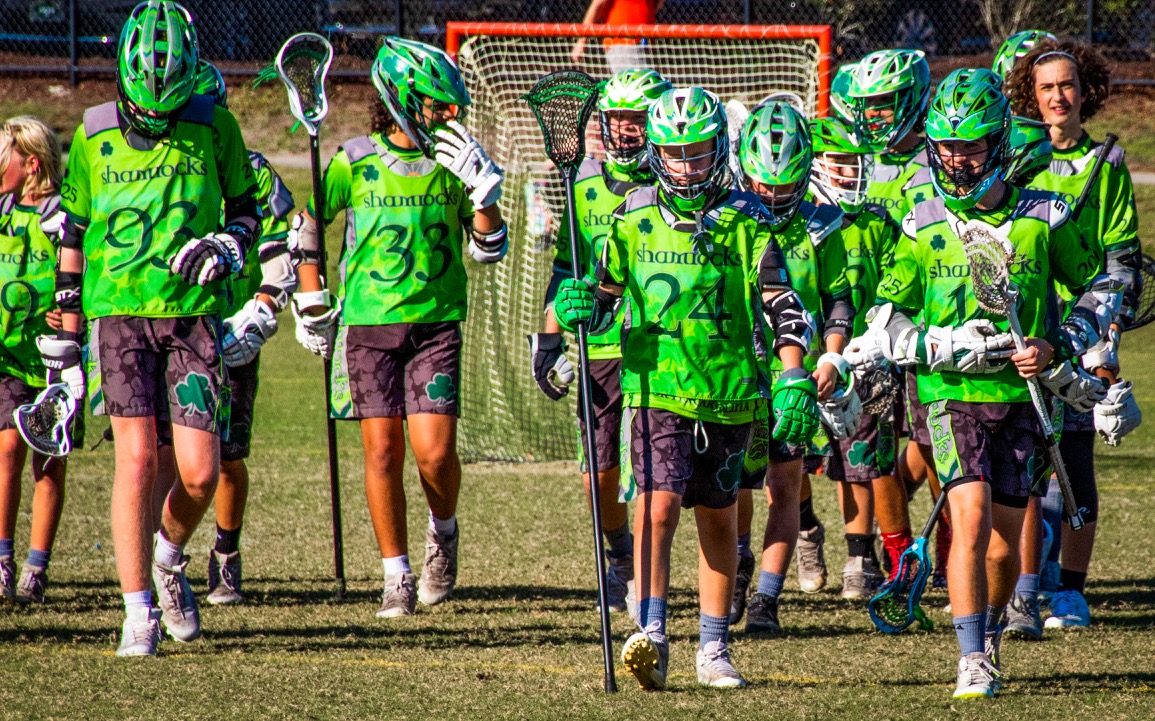 Our Team is Our Family
"Teamwork makes the dream work." The memories you make traveling with family and friends will last a lifetime.  Parents, players, and coaches are all part of the Shamrock family.
Serving Our Community Since 2011
With extreme pride and gratitude, the Cape Fear Shamrocks have never turned away a single player who did not have the means to pay for travel lacrosse.  Again, we could not do it without the help and support from our sponsors and community.  We have also had the honor of raising money for children with cancer, food banks, homeless shelters and look forward to the opportunity again in the future.
Why Join?
There are many benefits in playing for the Cape Fear Shamrocks travel lacrosse organization. Some will say it is because the level of play and coaching the players receive. Others will say it will help with college exposure and the recruiting process.
Although these are good reasons, we take pride in being more than that. We provide a family/community/team approach that teaches leadership, accountability, character, and dedication. We want our players to be good students, neighbors, friends and eventually community leaders. Cape Fear Shamrocks lacrosse is more than top-level training. It is a family!
The Cape Fear Shamrocks are committed to creating an excellent teaching, competition, and practice environment for the sport of lacrosse. There will be no tolerance for the breaking of team rules. The consequences may be but are not limited to: loss of playing time, removal from a tournament, or ejection from a team.
Players are expected to attend all scheduled team practices. It is understood that players who miss a practice will notify the coaching staff well in advance. It is further understood that an acceptance of a roster spot is a commitment to attending all tournaments and scrimmages during the season. Shamrock players are expected to be punctual for all events, especially tournaments.
Players and parents are expected to display impeccable sportsmanship during practices, games, and any CFLA Shamrocks' event. The use of inappropriate language directed at teammates, officials, coaches, parents or tournament officials will not be tolerated. Transgressions of this policy may result in, but not be limited to, reduced playing time or suspension from the team at the discretion of the Head Coach and Director.
Parents must understand that this is a travel lacrosse team dedicated to competitive results at tournaments and practices. There are no promises of playing time. Any parent concerns shall be handled by the Head Coach, and/or the Program Director at an appropriate time; at a time to be determined by the Program Director.  Such requests shall be handled promptly and reasonably.
Players are expected to use proper and respectful language at all times. The use of alcohol, drugs, tobacco or any substance designed to stimulate a pharmacological or psychological imbalance will not be tolerated. The coaching staff retains the right to inspect all possessions, including bags, backpacks, or other containers to ensure compliance of this rule. Players who break this substance rule will be subject to immediate dismissal from the team with no reimbursement.
It is further acknowledged that players not only represent themselves, their parents and their school; they represent the Cape fear Shamrocks organization. If a Shamrocks coach assists a player in the college recruitment process, that player should always respond to any collegiate coaching inquiries and correspondences in a timely and respectful manner. (Even if to politely decline invitations to further explore an institution). Players' current actions or inactions can have an adverse effect on future Shamrock members. Players are expected to represent this program with care and class.
At all events, we expect parent and player behavior to be exemplary. Parents and players will act appropriately while traveling, in hotels, or at any time on team trips.
Failure to comply with these rules can result in a player's immediate suspension and termination of play for that event. Suspended players may only return after Coach and Directors have adjudicated the infraction.
The Shamrock Coaching Staff and Director retain the right to modify or add additional rules at any time. The addition of rules will be provided digitally to parents and players. Prior to accepting a roster spot, these rules must be read and accepted by both player and parent(s).
In 2010, Eddie Jones, Steve Philipp, Steve (Doc) Treman and many other local coaches and parents were coaching for the Cape Fear Lacrosse Association recreation league, founded by Barron Russell and Don Osterbo. Travel lacrosse was still in its infancy stages in North Carolina and most travel teams were made up of high school teams playing in tournaments around the state. At the time, Coach Philipp resided in Jacksonville and coached their recreation league as well. Coach Philipp found a youth tournament in Hilton Head South Carolina and asked coach Jones if he would be interested in combining players from Wilmington and Jacksonville to attend. The U12 team won the tournament and the U15 team lost in the championship game.
Overall, it was a great weekend. At the end of the weekend, we had a team dinner and lifelong friendships were made with players and families. When we returned, parents were asking when and where the next tournament would be. Other age groups also started to ask if they could participate. Coach Philipp, Jones and Russell met on a weekly basis to secure a coaching staff and plan out summer tournaments. Nobody cared what the name was going to be, so coach Jones took the lead. Much to the dismay of many people involved, he named it Cape Fear "Shamrocks." Parents, players, and coaches have all been instrumental in making what the Cape Fear Shamrock organization is today.