welcome to

 the home of the cape fear shamrocks
20th Annual Wilmington Fall Lacrosse Festival. Click Here to Register a Team
Up Next:

First Fall Tournament NXT Carolina Shootout Oct 21-22
The Cape Fear Shamrocks were established in 2012 as a 501c3

non-profit organization.

Our priorities are Family, Academics, and Lacrosse in that order. No deviations or exceptions.
Shamrock Teams have competed in over 500 events in eight

different states.

Shamrock Teams have won national level events in Pennsylvania, Maryland, Virginia, Georgia, North Carolina, and South Carolina.

Since 2012 the Shamrocks have never turned away a player or

family due to a financial situation. On average, the Shamrocks

have provided scholarship dollars in the amount of $20,000 every year since established.
Shamrocks has 30 Coaches on Staff. All Area High School and Middle School Coaches are involved in this program.
Every Shamrock Team is assigned three coaches – Offensive

Coordinator, Defensive Coordinator, and a Goalie Specialist.

The phrase Attitude and Effort on our shooting shirts refers to 

players controlling the "

Controllables

". The individual player has

complete control over these intangibles.

Since 2012, 99% of all area High School Lacrosse Honors have

gone to Shamrocks Players. Such as All Conference, All Region, All State, All American, and Players of the Year.

The Shamrocks have a "Zero Tolerance" Policy on Drugs and

Alcohol.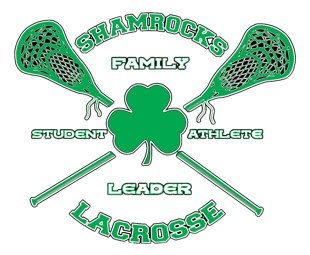 What We Are
Cape Fear Shamrocks is a youth travel organization that provides a positive lacrosse experience for players and families. We are an organization that prides itself on family, education, and community well-being.
Mission Statement
The Cape Fear Shamrocks organization is dedicated to providing a competitive lacrosse experience that builds character and integrity.  We are committed to promoting and coaching the game of lacrosse in and around the Eastern Carolinas.  We will strive to mentor and develop each individual into a "triple threat player": students,  athletes, and leaders who are prepared to compete in high school and college level programs.
What We Are Trying to Do
Cape Fear Shamrocks has the best coaching staff in coastal North Carolina, but our success is more than just teaching lacrosse. We want Shamrock players to learn about character, leadership, community service, and what it takes to be a good teammate. Many organizations can teach athletes to become good lacrosse players. We want competitive lacrosse players that have skills on and off the field.
Serving Our Community Since 2012
Family, academics, teambuilding, and hard work are the cornerstones that the Cape Fear Shamrocks were founded upon. Team founders Eddie Jones and Steve Phillips have created more than just a Lacrosse Team, they've crafted a golden opportunity for young players to build leadership skills, character, integrity, and be noticed by college recruiters. Most of all, the Shamrocks are a non-profit that have given back to countless charities and work to always better their community.